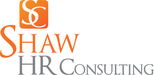 Newbury Park, CA
https://www.shawhrconsulting.com/
---
Booth: 49
Shaw HR Consulting, Inc.
Shaw HR Consulting is a Human Resource consultancy specializing in providing employers with a full range of Disability Compliance Management services to support their compliance with Title I of the Americans with Disabilities Act (ADA) and the California Fair Employment and Housing Act (FEHA). We serve private companies as well as more than 100 public sector organizations including cities, counties, school districts, utilities and colleges.
Our consulting services range from Disability Compliance Strategy – including Policy and Program Development such as Early Return-to-Work and Leave Management Programs – to Disability Compliance Implementation including the creation of Essential Functions Job Analysis (EFJA) documents, Interactive Process Coordination and Facilitation, and Fitness for Duty Management. In addition we offer wide variety of training opportunities.