Hotel and Travel Information
March 9 -11, 2020 | Oakland Convention Center
Travel Policy -- Health & Safety
Anyone that has traveled to or knows to have had contact with anyone who travelled to countries with reported cases of coronavirus disease (COVID) not attend unless they have been symptom free for at least 21 days since they returned to the US (or those they had contact with have been symptom free for at least 21 days since they returned to the US).
If you've been in contact with anyone who traveled from any of those countries and did develop any symptoms (fever, cough, shortness of breath), then you should not attend HR West unless you have been symptom free for at least 21 days from the day of contact with that individual.
We do
not
have any international registered attendees or speakers.
To help prevent the spreading germs, the CDC advises hand washing, hand sanitizer, coughing into your elbow, and not shaking hands.
The HR West Conference will have anti-bacterial hand sanitizer and wipes available throughout the venue. Please reach out if you have further concerns.
You can read more from the CDC here.
The
California Department of Public Health
is not recommending the cancellation of public events. There is no evidence of sustained person-to-person transmission of the virus in in the United States. The health risk from COVID-19 to the general public remains low at this time.
Hotel, Conference, Parking – All Under One Roof!
Oakland Convention Center/City Center Marriott
1001 Broadway
Oakland, CA 94607 USA
Located in the heart of downtown Oakland, the Oakland Convention Center is a world-class exhibition hall attached to the beautifully remodeled City Center Marriott. The Convention Center is easily accessible by all major freeways, has onsite parking, and for those wanting to explore downtown San Francisco, the Bay Area Rapid Transit station is located right across the street and can take you there in only 12 minutes.
Parking will not be validated. There is no special pricing and each individual pays at the gate or at the pay machines on the 3rd and 4th floor of the parking garage elevator landing before they exit out. Prevailing parking rates are in place. $40/day for garage parking (no in-and-out privileges), $45/day for valet parking (in-and-out privileges). 12th Street/Oakland is the closest BART stop.
2020 Hotel Reservations
The room block has expired for the 2020 conference.
Check out the general hotel site here:
City Center Marriott
.
Maps and Transportation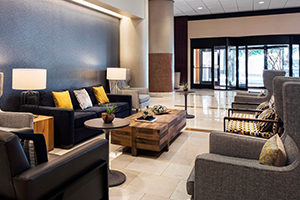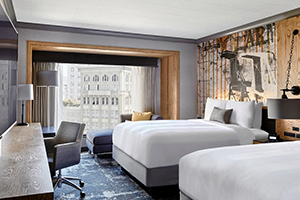 ---
Scammer Warning and Information
It has come to our attention that someone has been calling HR West sponsors and exhibitors offering fraudulent hotel rooms. As a friendly reminder, the only way to receive the discounted hotel rate is by contacting the hotel directly or booking online using the secure link above. If you have questions about making hotel reservations, please contact the Oakland Marriott at (877) 901-6632.