Conference App
MARCH 11-13, 2019 | OAKLAND CONVENTION CENTER
Conference App
Sponsored by

Download the HR West App and have essential conference information at your fingertips, including maps, session descriptions, exhibitor information and more. Plus, play the Click Game in the app for a chance to win a 2020 HR West registration! An invitation from CrowdCompass was sent to you with instructions for downloading the app and accessing all the cool options. If you have the previous HR West app, please delete as this is no longer in use.
Logging in to the HR West App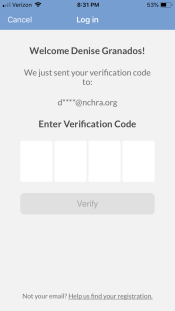 To log in to the app:
- Type in your name, confirm your email address, and look for a confirmation email with a 4 digit code
- Enter the 4 digit code into the app and click verify
You should now be able to access HR West information.
*You only have 24 hours after you click Verify Account to use the code. If you do not use it within 24 hours, you will need to go through the process and get a new code.*
Home Screen of HR West App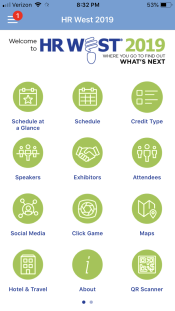 Use this screen to navigate the app. Everything you need to have a great experience at the conference is right here.
- Check the schedule
- Search for Speakers
- Review the exhibitors
- Find your friends
- Use social media to share your experience
Play the Click Game for the opportunity to win a FREE HR West 2020 registration.
Review the Daily Schedule or create your own personalized schedule by choosing sessions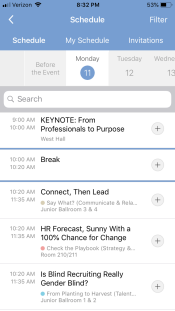 From the Home screen, click on the green circle that says
Schedule
underneath. This will show you the schedule for each day of the conference with all the possible sessions for each time period.
If you mark the sessions you wish to attend, you can save them under
My Schedule
for future reference. You must be logged in to save your schedule.
Each Session has the room #, category, time and credit type.
Filter by credit type
- Click on the green Credit Type circle to filter
- Click which category you want to filter by and this will show you all sessions with that credit type
- To view another credit type click the < arrow in the left hand corner
Filter by track and speaker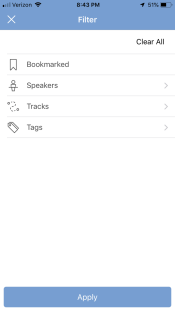 - Click on the green Schedule circle to filter
- Click the word Filter in the upper right corner
- Click Tracks
- Choose the track you want to use to filter the sessions (Strategy & Leadership, Employee Relations, etc.)
- Arrow back one page and click Apply at the bottom
Now you will see the sessions that are tagged under the track you choose.
To remove the filter, click Filter in the upper right corner, tap again on the chosen filter, and it will unselect. Arrow back and choose Apply. Done!
Thank You to
Our Sponsors
OnePoint Human Capital Management LLC.
Kronos
Become a Sponsor