Keynote Speaker Jeff Bellisario
March 9-11, 2020 | OAKLAND CONVENTION CENTER
Keynote Speaker Jeff Bellisario, Executive Director for the Bay Area Council Economic Institute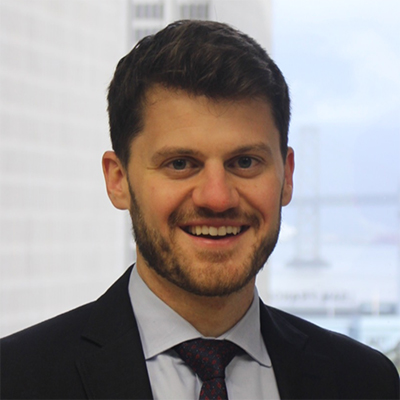 Heading the leading think tank focused on economic and policy issues facing the San Francisco/Silicon Valley Bay Area, Jeff Bellisario serves as the Executive Director for the Bay Area Council Economic Institute.
Since 1990, the Bay Area Council Economic Institute has been a valued forum for stakeholder engagement and a respected source of information and fact-based analysis, the Institute is a trusted partner and adviser to both business leaders and government officials.
Through its economic and policy research and its many partnerships, the Institute addresses major factors impacting the competitiveness, economic development and quality of life of the region and the state, including infrastructure, globalization, science and technology, and health policy. It is guided by a Board of Trustees drawn from influential leaders in the corporate, academic, non-profit, and government sectors.
Jeff manages a team of six researchers with the goal of providing data and recommendations that can inform public policy decisions. The Institute's work focuses on data collection, trend tracking, innovative research designs, and policy considerations across several different topic areas that are relevant to the Bay Area's future prosperity.
His personal research interests lie at the intersection of community development and finance, and his past projects include analyses of Bay Area housing programs, public-private partnerships for infrastructure, and the economic impacts of civic investments.
Jeff holds a Master of Public Policy degree from the UC Berkeley Goldman School of Public Policy and a Bachelor of Science degree in Finance from the University of Illinois at Urbana-Champaign.
---
KEYNOTE: What's Next for the Bay Area Economy? Economic Trends & A 2020 Outlook with Q&A
Tuesday 9:00 a.m. - 10:10 a.m. - West Hall
Dive into an insightful 2020 economic outlook for the year ahead, provided by the leading think tank focused on economic and policy issues facing the San Francisco Bay Area and Silicon Valley. Discover key economic trends that are shaping hiring decisions for the Bay Area and understand how it can impact your company and HR decisions.
Every two years, the Bay Area Council Economic Institute and McKinsey & Co. publish a regional economic profile of the Bay Area. The report provides data points on a variety of trends that are used by policymakers and business leaders as they seek to better understand the opportunities and challenges within the regional economy. Jeff will preview the 2020 report findings, including the hot-off-the-press regional economic profile of the Bay Area. This includes the types of the talent attracted to Bay Area jobs, where they live, and how they commute to work.
After hearing from Jeff, you'll have a chance to participate in a 15-minute Q&A session immediately after the presentation. Bring your burning questions!