Keynote Speaker Cindy Solomon
March 9-11, 2020 | OAKLAND CONVENTION CENTER
Keynote Speaker Cindy Solomon, Founder, CEO and President of the Courageous Leadership Institute™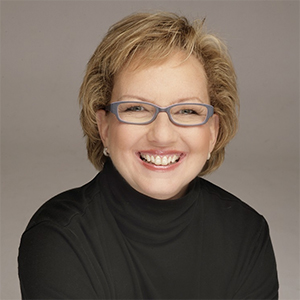 World-renowned leadership expert, author and speaker, Cindy Solomon helps Fortune 5000 companies build Courageous Leadership™ at scale, better enabling their teams and organizations to compete and win in today's customer-driven economy.
With her Courageous Leadership keynotes and programs, Cindy has helped hundreds of companies around the world identify, nurture and leverage the leadership potential in both their front line employees and their leadership teams. Cindy counts among her clients 26 J.D. Power Award winners, and industry leaders such as Google, Alaska Airlines, UPS, Oracle, Wells Fargo and The Ritz-Carlton, among others.
One of the most highly sought-after leadership speakers in the world, Cindy Solomon has traveled the globe sharing her provocative, and often hilarious insights on business, customer service and courage with tens of thousands each year. She is also founder, CEO and President of the Courageous Leadership Institute™, an organization that specializes in working with companies, nonprofits and associations around the world to introduce Courageous Leadership™ as a daily practice at every level - building teams that are uniquely equipped to meet the needs of a changing and disrupted marketplace.
With a diverse client partnership background ranging from financial services to aviation and healthcare to high-tech; Cindy her team of worldwide CLI Facilitators deliver cutting-edge, blended learning programs that marry live training, interactive webinars and innovative, online MicroLearning™ e-courses that enable exceptional customer and employee engagement at scale quickly, generating impactful bottom-line results - fast.
Cindy is also a best-selling author on the topic of leadership, with books Creating a Culture of Courage, and The Rules of Woo both available on Amazon. Learn more about Cindy at www.cindysolomon.com, and follow Cindy at @cindysolomon.
Read our Q&A with Cindy
---
KEYNOTE: Creating a Culture of Courage: The HR Silver Bullet
Monday 9:00 a.m.- 10:30 a.m. - West Hall
In 2020, organizational disruption from both internal and external forces is greater than ever before. Creating accountable, results driven, nimble organizations is critical for success and HR can be the crucial driver of that process. Based on data from over 200 large client implementations and over 8,700 hundred interviews, this keynote focuses on how we, as HR leaders and professionals can lead the way in creating courageous leadership throughout our organizations. Whether the focus is helping to engage and retain a cross-generational and diverse workforce, or developing the skills needed to create customer loyalty, Cindy shares the secrets to effectively engaging leaders and employees (and ourselves!) with a common goal and purpose: to courageously lead.